Online Poker Review - Noble Poker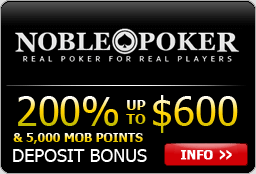 Noble Poker belongs to the popular iPoker network, and although it does not accept American players it has grown recently thanks to aggressive advertising, so that it can offer plenty of traffic even off peak hours for all games except Omaha, which only comes into its own at peak times.
On average there are around 8,000 ring-game players and up to 45,000 tournament players at peak hours. Noble Poker operates in several currencies, including Euros, British Pounds and US Dollars. Another attractive aspect of Noble Poker is the fact that it offers casino games in the same software, courtesy of Noble Casino.
Even though the iPoker network does not allow U.S. players, poker rooms such as Mansion Poker, VC Poker and Poker Ocean have recuperated fast due to a high influx of European players.
Poker sites should be more noble and offer more poker bonuses and incentives for playing on their site. At Noble Poker, you will get those incentives and bonuses. Check out their poker bonus and other great features they have to offer.
Be Noble >>
Poker Room Reviews
The top rated and most popular online poker rooms are all reviewed on StreetSlots. Choose your poker room from the list below to read the review and take advantage of our exclusive bonus offers.
Best Online Poker